THOMPSON & GRACE PHARMACEUTICALS LTD

STANDARD OPERATING PROCEDURES (SOPs)
FOR
PROSPECTIVE ONLINE MARKETERS
Purpose
This Standard Operating Procedures (SOP) is to serve as the lay down procedures/rules to all Thompson & Grace Pharmaceutical Ltd prospective marketers who wish to trade Sebamed or any other products that is exclusively distributed by the Company on any online marketing platform e.g. Konga, Jumia, JijiNg among others.
The Aims of this SOPs are;
To have the actual number of Marketers who trades the Company's Products on online marketing platforms
To trace and remove any unwholesome products that may be imported by parallel importers from online platforms
To report any erring online marketing platform that refuses to obtain authorization from the Company before accepting to sale/promote the Company's products for their clients online to the regulatory body (NAFDAC).
To put in place proper quality measures that will help eliminate any sub-standard products from online platforms
To ensure that all the Company products have uniform price Online ( Price Regulation)
Flow Chart of Online Sales SOPs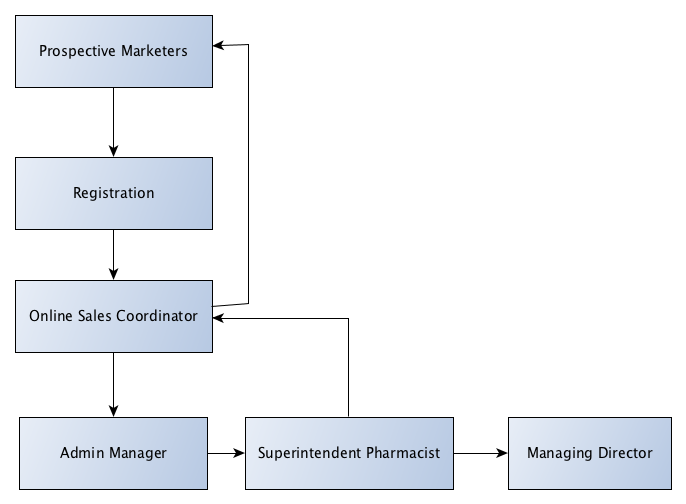 Outlines/Guidelines:
–  Register with the Company on the Company's website
–  Meeting with the Management of the Company
– Start trading the Company's product online with full access.
Explanations of the Outlines/Guidelines above
Stage I: Registering on the Company's website
This is the preliminary stage for anybody who wants to apply as an Online Marketer in the Company. Here the prospective marketer is expected to register and submit his/her detailed information on the Company's website for onward processing.
Stage II: Meeting with the Management of the Company 
After registering on the Company's website, the Marketer will be invited for a one on one meeting with the Management where valid information will be passed to enable him/her to commence online trading.
Stage III: Start trading the Company's products online with full access
This stage means that, a marketer has met all the criteria and he/she is now given complete authorization to start trading the company's products online.

Please Download the form from the link above, Fill and return to us for processing and approval.
Email Address: enquiry@thompsonandgrace.com